Welcome to the TP web site! The Timmins-Porcupine track and field club is home to Northern Ontario's best junior and senior level athletes and coaches in the sport of cross-country running, track and field and road racing. This page will be constantly updated with results and info so be sure to bookmark it now!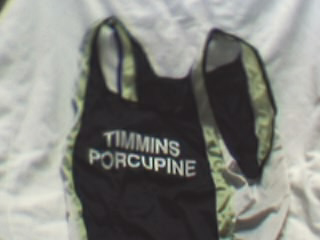 Many Timmins-Porcupine athletes have recently recorded great results. The club coaches and senior athletes hosted the Ontario Legion Championships in New Liskeard from July 14th to 16th, where the best young tracksters from the province went head to head. Some notable TP performances in Liskeard were Remi Tremblay's 55.9 in the 400 hurdles, good for silver and Amanda Larose's 4:53 in the 1500, capturing bronze. Also, Steve Rogers took home his second gold medal in as many years with a win in the 1500m racewalk. His time also qualified him for the National Championship in Calgary, where he finished 2nd.

Three TP athletes competed in this year's Canadian Junior Championships in Montreal from July 14th to 16th. Isabelle Malette ran the women's 3000steeplechase where she ran a gutsy 12:10. In the men's steeple, Justin Lambert-Belanger outkicked a closely matched field to win with a time of 9:23. Heptathlete Melanie Lachapelle competed in the long jump and 100 hurdles, making both finals and finishing 6th in both respective events. Lachapelle also competed in the Canadian Multiple Events Championships, where she qualified for the national junior team for the second consecutive year.
Two senior-level athletes competed at the Canada Dry 2000 Olympic Trials in Victoria in early August. James Gosselin competed in the 3000m steeplechase, placing 7th with a respectable time of 9:16.07. Jason Gervais took home two medals, first upsetting #1 seeded Jason Tunks in the Shotput to grab the gold with a solid toss of 19.03m, then assuring his spot on the Olympic team with a throw of 57.54m in the discus, good enough for silver.

Canadian track team photo from Sydney, Australia. Jason Gervais, discus thrower and Timmins-Porcupine Track Club member can be spotted in the top row, sixth from the left.
For more information on Jason, be sure to check out the athlete profiles, as well as the Club Notes/News sections.